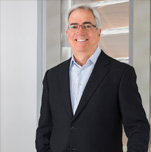 203.354.5050 phone
203.222.4935 fax
>>
email
>
download bio
ELI BOYAJIAN
Chief Technology Officer
Responsibilities:
Eli joined Greenfield Partners, LLC in 2014 as Chief Technology Officer. His responsibilities include oversight of the entire information technology portfolio as well as to strategically leverage information assets to help enable and grow the business.
Professional Experience:
Prior to joining Greenfield, Eli was a Managing Director & Chief Information Officer at ACA Financial Guaranty (monoline bond insurance) and Senior Vice President & CIO at Radian Asset Assurance (financial guaranty insurance and reinsurance to issuers of municipal bonds). Eli was also a Captain, U.S. Army, where he served in systems engineering organizations at Walter Reed Army Institute of Research and Tripler Army Medical Center.
Education:
BA, Biology, Washington & Jefferson College
MS, Biomedical Engineering, Rensselaer Polytechnic Institute