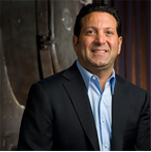 203.354.5010 phone
203.222.4936 fax
>>
email
>
download bio
EUGENE A. GORAB
President & CEO
Responsibilities:
Gene founded Greenfield Partners, LLC in March 1997,
and is responsible for managing the overall strategic direction of the Firm, including capital formation, investments, and asset management.
Upon completion of capital formation for its ninth co-mingled fund (Greenfield Acquisition Partners VI, LP), Greenfield Partners will have secured equity commitments in excess of $4 billion from leading institutional and individual investors to its investment vehicles.
Professional Experience:
Prior to forming Greenfield in 1997, Gene was a founding partner and Managing Director of Starwood Capital Group, LLC. He headed Starwood's development and land groups, was a senior member of the acquisitions group, oversaw Starwood Asset Management, LLC, and served on Starwood's Investment Committee. In addition, Gene was a trustee of Starwood Financial Trust, the predecessor entity to iStar Financial, Inc (NYSE:SFI). Prior to helping form Starwood, Gene was an acquisitions officer at JMB Realty Corporation.
Subsequent to the completion of his undergraduate degree, Gene served for two years as a Project Engineer for Air Products and Chemicals, Inc. (NYSE:APD).
Gene earned a BS in Chemical Engineering from Bucknell University in 1985, and an MBA from The University of Chicago in 1989.
He is an active member of ULI, PREA, and the Real Estate Roundtable, and a member of the Board of Trustees of Bucknell University.
Education:
MBA, University of Chicago
BS, Chemical Engineering, Bucknell University